About IPEC

27 - 28 May, Virtual Congress
Given what the world is facing today, collaboration has become even more important, and there has never been a better time to unite as an industry.
The inaugural Integrated Project Engineering Congress (IPEC), developed in response to market demand, promises to be one of industry's most influential, transdisciplinary events, covering topics of Leadership and Management, whilst bringing together representatives from within the fields of Risk, Systems Engineering, Cost Engineering, Project Controls and Asset Management.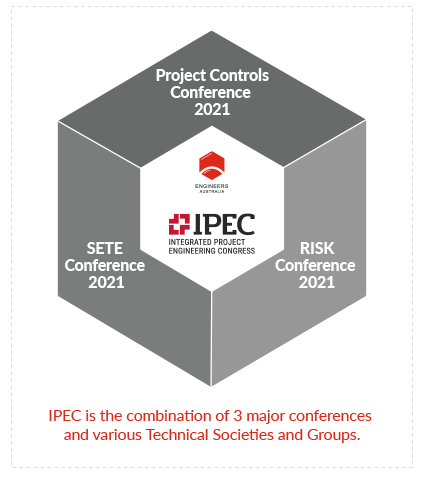 The Congress will serve to enhance the delivery and ongoing utility of complex and critical capability for the benefit of consumers, the environment and the economy.
Leading speakers within their fields will cover themes such as:
Capital Projects and Lifecycle;
Sustainability and Resilience;
Technology and Data;
Human Systems and Culture; and
Governance and Assurance
IPEC will deliver unique value by incorporating three conference opportunities into the one registration. Delegates will have access to the entire program and can select individual sessions and events from across conferences and themes.
The Congress format will also reflect a new way in which we collaborate and learn. We've created an event with an innovative setup, giving you the opportunity to attend virtually in real-time through our interactive platform, or later in replay. This allows for professionals around the world to get involved.
Companies and specialist providers from across government, academia and industry sectors and domains are invited to be associated with this international congress through sponsorship and participation support.
IPEC is proudly presented by Engineers Australia, Risk Engineering Society, Australian Cost Engineering Society, Systems Engineering Society of Australia, and the Asset Management Council, with the support of the College of Leadership and Management.
Don't miss the opportunity to join thought-provoking discussions, learn about industry trends, and develop career-enhancing connections at IPEC 2021.
Engineers Australia will update this website with further details once confirmed. If you have questions please contact us at
[email protected]